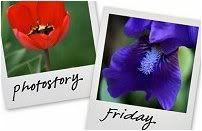 Hosted by Cecily and MamaGeek
I know, it's a photo of a stove, but the story of who I received the stove from is where it gets good.
Some of you will remember my week of disaster before Christmas. If you don't, you can go read
about it here
. It was a week that I should hope not to endure again for a very long time.
After Christmas was over, I started looking through Freecycle and Craigslist for any stoves that might be of use to us. After all, paying more than 100 dollars for a stove was not in our budget. I came upon an ad on Craigslist that had an electric stove for 25 dollars. Wow, what could be wrong with it?
Most stoves had ads asking for alot more and sometimes they couldn't even guarentee that the stove worked.
So I contacted this person about the stove and asked to come and look. I knew I was probably going to buy it. Even though it's quite old, anything would work for us as long as the stove did.
We drove just over an hour, through winding roads and towering hills. We arrived at a beautiful old (1893) home set off the road out in the country. I could see a nice Christmas Tree standing in the window. We pulled up and proceeded to get out of our truck. There were a few cats and a dog. This is exactly how I have envisioned my own little piece of the world, right down to the mature trees on the property.
Hubby and I met the individuals selling the stove. They helped load the antique beauty and then asked us in to their home. We walked into their screen porch and then the kitchen. It was in the kitchen that I knew I was in love with their house. I didn't need to see anything else.
There was one wall in particular that had shelving from floor to ceiling. On the shelves were hundreds of canned goods that this couple had made from the goods in their garden, fruit bearing trees and bushes. It was awesome!
I stood in their kitchen for a few minutes, letting Hubby pay them and thank them. I was just in awe about everything I was seeing. The dog was standing at our feet, licking Greg's hands and thankful for the pets she was getting in return. The wife asked if we'd like to have some jam she had made and canned.
Greg and I both began to make our way back out. We both said thank you and went to shake each the husband and wife's hand. To my surprise, the wife laughed, held out her arms, and said "Oh, give me a hug."
I did not know this woman any more than I do my mailman. Yet she opened her arms and hugged a complete stranger. She acted as if I were someone special.
I was not nervous, nor offended. Hubby and I both got in the truck and I had goosebumps; a warm cozy feeling all over. I was giddy with delight.
This little trip we took to get a stove was proof that nice people still exists. We were with this couple a mere 20 minutes total. The couple was kind to us without hesitation and that is something I'll remember for the rest of my life.
BTW, they even emailed us later that week to ask if everything was working correctly with the stove. Of course it was. The stove maybe older, but it's pristine and I love it! Within the email, they invited us to stop over whenever we were in the area.