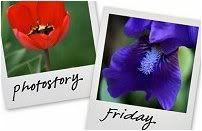 Hosted by Cecily and MamaGeek
This photo was taken last Christmas. I had only been a mother of two girls for 26 full days. Despite the well seen dark circles under my eyes, everything was going wonderfully.
I bought the girls matching onesies that year. They said, "I Am The Perfect Present".
They
are
the perfect present, everyday of the year.