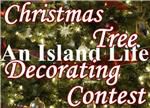 Alright my friends, Voting is now open! Please visit the following link and
vote for our Family
Christmas Tree.
We are number 18!
You can vote
ONCE PER DAY
and voting closes on December 16th. Thank you in advance and have a happy holiday!
Go Here To Vote For Izzy 'N Emmy's Family Tree
You can find my original post
HERE
and below is the photo we entered.
Thank you to
An Island Life
for hosting such an amazing contest and giveaway!