The girls have always gotten along well and adored each other in their own way.
This photo is one of the first few I have of them together, Circa 12/2007.
It's day's like today (
and yesterday, and possibly the day before
) that I hope they remember they are sisters and that they share a very special bond. As they continue to grow together, I want them to realize that they have each other. I want them to realize that they will need each other.
Until all of that comes to them,
I just want them to be nice to one another
. lol!!
Huge thanks and love to Cecily for giving me the opportunity to host PhotoStory Friday this week! *hugs*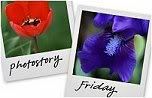 Hosted by Cecily and Izzy 'N Emmy
To play PhotoStory Friday, check this. Then copy the code below into your post and sign the Our Blurbs Guest List.
<center><font size="-2"><a href="http://whatworksforus.blogspot.com/2007/06/iphone.html" target="_blank" alt="Photostory Friday"><img src="http://i212.photobucket.com/albums/cc50/whatworksforus/pfws.jpg" alt="PhotoStory Friday" border="0"></a><br/>Hosted by <a href="http://mychaosmybliss.blogspot.com/" target="_blank">Cecily</a> and <a href="http://izabelandemilyjack.blogspot.com/" target="_blank">Izzy 'N Emmy</a><p/></font></center>