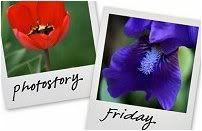 Hosted by Cecily and MamaGeek


We are trying to enjoy the last bits of Summer and in doing so, we go to a lot of parks. This is our favorite park. The fields are awesome and there is so much room to run. Not to mention a great place for photo taking. I had Daddy take a couple of new profile
pics
for
me
but the girls were being cute throughout the evening so of course we took photos of them too.
Things are starting to get busy, but I have tons of photos to upload. I also have my second wedding as a videographer/photographer this Saturday. WooHoo! I still haven't finished editing from last weekends. :)
The second little tidbit I want to share is about the Starry Night photos below. I know they aren't real snazzy, but enlarge them and you will see tons of stars! Daddy and I were out late (and up early) trying to catch a shot of the Perseid Meteor Shower. We missed the morning's peek before but I was able to see 5 in about an hour. COOL, right? I know, I was so excited. However, I was not able to get any in a photo. Those things are moving soo fast!
So Daddy got creative and took the two below shots. We have been brainstorming all day and we are going to try again in the coming days for better star shots. I love these and it's not even a glimpse of how many are really up there.