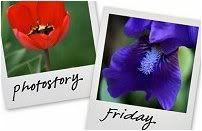 Hosted by Cecily and MamaGeek



Today's PhotoStory Friday is about my daughter Izabel. My oldest daughter, who is 3 years old.
Izabel is in another "blossoming" stage and the past few weeks have been very eye opening for me. Not only does she continue to physically look more like a little girl than a Toddler, but her brain is making leaps as well.
Little things are starting to make me realize that she's going to sprint off in no time.
Television is not only for cartoons anymore. She doesn't watch any other types of shows but today she told me who iCarly was. I didn't even know. And commercials are way more interesting than ever. She has begun the, "I want those Mommy so that I can..." stage. The infomercial for Benderoo's is a huge hit for her and insists she wants them for Christmas. Today she also mentioned wanting Sketchers. :)
Izabel is a conversationalist. She loves to talk so much that she has begun tripping herself up as she lays out her stories. "Um" is heard quite frequently these days. She can go on and on about nothing.
As does any child growing up, she insists on doing things "all by herself", unless it's cleaning up her toys. She wants to walk in the store instead of sitting in the cart. Izzy has questions for everything. I have so little answers sometimes.
When playing at the park, Izabel states to the other children, "This is my baby sister, Emily. I am sorry." Yes, she throws the apology out there right off the bat. *sigh*
Izabel and I spend a lot of time together, especially of late. She wants her toes painted, her fingernails trimmed, her hair braided and her clothes to match. She loves to play beauty shop and brush Mommy's hair and constantly wants to pretend cut. Ha!
She's not my little first born anymore. She's a little girl who has idea's of her own and a will stronger than most. I complain now but she is going to go far.
As far as Medical School, so she says. Izabel wants to be a doctor. Not an astronaut, so she can fly to the moon, or a teacher, or even a dancer. A doctor.
I am so proud of her and who she is becoming. I am so glad to be her Mommy.
*******************

For those of you who are interested in what this Fall will bring for Izzy, here's the jist of it all.
Izabel was not accepted into the pre-schools we were on the waiting list for. Some were too full and others she was simply too advanced for and those spots were needed for other kids. After meeting with and talking to Izzy's PATS teaches, Daddy and I have decided to keep Izzy out of pre-school this year and focus on a homeschooling regimen at home. I would have loved to send her to any one of my top picks but, at $6000 a year in tuition, we had to say no.
It's not the end of the world, Izzy learns very quickly and this will help her to be even more ready next year, should we make a list then. She's writing letters these days to her family and loves to read. (I mean as in "Dear Jane, How are you?" letters.) We are encouraging her in reading and writing right now, working on large numbers and the solar system. She knows her planets pretty well. Daddy and I will continue to go through several subjects and projects to keep her brain going.
It should be fun and if it's possible to send her to one of the more exclusive pre-schools next year, than she will have a good start on the curriculum.