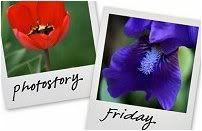 Hosted by Cecily and MamaGeek



I am a true believer that children really do not need toys or things that light up or make noise.

However, I still buy them.

Izabel and Emily have a knack for finding things to play with wherever they may be.

Yesterday, the girls and I ventured out for some sun. Despite having 2 slides, a climbing gym, sandbox/pool, digging tools, swings, and numerous other child appropriate toys...

They thought banging this fence post to create

noise

music and then dancing around it was way better.