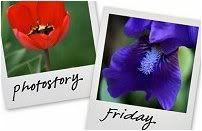 Hosted by Cecily and MamaGeek
Last weekend we attended a company picnic with a Carnival/Circus theme. The girls had so much fun on the slip n slide and bounce houses, whacking pinatas full of candy, watching a clown, dancing, sipping home made milkshakes, playing The Limbo, munching peanuts and popcorn, exploring their gift boxes full of goodies and being adored my hundreds.
Each year we attend this picnic and it only gets better and better. This year, Emily thought the Cotton Candy was a big hit and Izabel liked her Pinwheel.