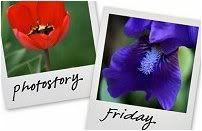 Hosted by Cecily and MamaGeek

There's something about trains that intrigue me. I am not quite certain exactly what I like about them, but in the meantime I'll just keep taking photos of trains. While on vacation we returned to the McCormick Railroad Park in Scottsdale, Arizona. It's a favorite of ours. It's a fabulous park with shade and swings, slides and jails, running room, a carousel and a train ride around the park.
We didn't stick around for the carousel or the train ride this time, but the early morning breeze and sunlight allowed the girls to get out and about and have some fun. They were a little anxious to keep going but I really had my eye on a few amazing photo spots. Too bad the girls thought otherwise. lol!