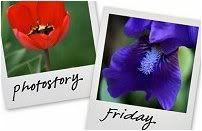 Hosted by Cecily and MamaGeek


Izabel had a very nice 3rd birthday. We had a small gathering at the house where she played with balloons, opened presents, ate a
beach cake
, and drove her new
Mustang
. All was good. It's official, I have a three year old and she knows it. Thank you for all of the birthday wishes from near and far and all of the wonderful gifts she received. There are a few more photos
over on FLICKR!
I'll be adding more soon.
Keep Izabel in your thoughts today because while all of you wonderful bloggers are reading this,
we are in surgery
. Or at least, we should be. I'll be a little behind in visiting but I'll be sure to be around this weekend for your PSF.

Vote for Izzy 'N Emmy Until February 27th