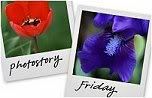 Hosted by Cecily and MamaGeek
It is coming up on a week since Emily turned One. It's still hard to believe. I wanted to share the last of her birthday photos with you; The Cake! She loved it and it showed.
P.S.
Happy Birthday to Nanny J (Dec 4th)!!
We love and miss you and wish we could be there to celebrate with you!
Don't forget to Enter my
Christmas Giveaway
!