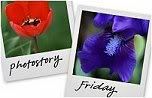 Hosted by Cecily and MamaGeek
>Art is a trait that our children have inherited from their father. Daddy is their art role model and inspiration.
Daddy is there to lend a crayon, a marker or a pencil. He is there to help open their minds; to guide them into a state of creativity.
Mommy is there to interpret the picture story about an elf, a pig on the farm and a spiderman flying around with a bat symbol on his chest.
Izzy finds inspiration anywhere and she comes up with the best stories and pictures. Her and Daddy sit and draw for hours on end coming up with the craziest characters ever. I'll be sure and let you know when Izabel has her first exhibit. Maybe you'd like a one of a kind piece of your own.