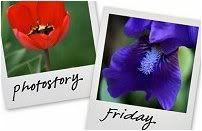 Hosted by Cecily and MamaGeek
*Click Images To Enlarge!
My first born is officially two and half years old. I find myself saddened by that and wonder where the time has gone. She will never be as tiny and innocent as she is at this very moment sleeping tightly tucked into her toddler bed. Izabel is such a wonderful little girl. I could not have asked for a more beautiful Princess, inside and out.
*Instead of my usual monthly letter, I decided to try out this new program. While it's a great program to design neat scrap pages and slide shows, I kinda missed writing out a longer letter about her accomplishments.
The photos used in this compilation can also be found in
FLICKR
! Enjoy!