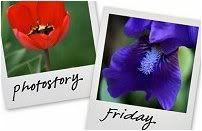 Hosted by Cecily and MamaGeek
This is my first week of playing along with PhotoStory Firday. I am burned out on Haikuing for the moment and this seemed like a great way to share a recap on our PATS meeting yesterday.
Our PATS teacher, Rosie, came yesterday for the Izabel and Emily's PATS meeting. It was a great visit and the girls had a really fun and messy lesson. Well, Izabel did. Emily is not ready for shaving creme, but she enjoyed banging on her can with a spoon and watching.
******************************************
On Wednesday, Izabel had her 3rd week of VBS. She loves going with Gama! All week long she asks if it's time to go to church yet. She's had such a great time meeting the other kids, singing and dancing, and making lots of neat crafts. I think at the end of the session she will be bringing home quite a bit of stuff!
This week, Gama said Izabel saw a Hopscotch grid at VBS and immediately knew what it was and began playing. I've never talked about Hopscotch so I guess I have to credit Noggin for that one. She was so excited though!
Emily is feeling a lot better and today will most likely be her last day of meds. She's sleeping great again! She's changed so much the last couple of days. I have taken her off of a bottle and she is officially on a sippy cup full time. She had no problems taking to it. She's constantly on the move and exploring ever nook and cranny of the house. She really loves the fact that she can chase Izabel around!
My doctor has put me on another round of double-dose antibiotics in hopes that they will clear of the kidney infection. I have another appointment next Thursday where they will draw blood and do a few tests to ensure no damage has taken place and that all is returning to normal.
Daddy has been busy with work and then coming home to work on his Honey-Do list. Gama and Papa bought us a flagpole last weekend and I am so anxious to get it up. I've been wanting one for awhile. It's rained or been yucky all week and the lawn really needs to be mowed. The forecast shows storms all weekend so we will see if that gets done. More work to do on the dining room this weekend as well.
Have a great weekend and be sure to check out more great photos of the girls over at
FLICKR!
This one is so cute!