The girls and I made it to the pumpkin patch a little late this year, but we still had a wonderful time. Gamma took the day off work to go with us too, which the girls thought was really fun. *Daddy had to work this year. :(
We started off with some very yummy and warm pumpkin donuts and kettle corn. Izzy pretty much lingered with the bag the entire day. Both girls did slides and swings, ran through corn mazes and hay bales, rode a make shift pony, and ran free for a few hours.
Izabel's favorite part of the trip was probably feeding the many animals that call the pumpkin patch home. Geese, chickens, goats, horses, pigs, cows, ducks, and rabbits. Emily insisted (many, many times) that she wanted to see the Llama, but there was no Llama. LOL! Emmy wouldn't feed the animals either. She was excited just to stand and watch Izzy do it. Izzy carried a bag of feed with her the whole day, letting various animals lick her hand to eat.
The patch was a little bare this time, given how late in the season we were. Nonetheless, we took a hayride out to the fields and found a few lucky mounds of orange. Emily loved the tractor ride out!
We managed to come home with one large pumpkin, 4 small and a green one for moi. I guess it's only fair to mention that they are still sitting on the deck, un-carved. :)
More photos of all the above mentioned fun will start making their way to
Flickr
soon! Enjoy!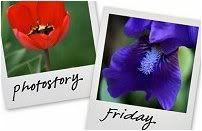 Hosted by Cecily and

Carissa