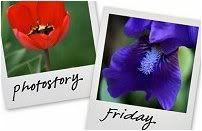 Hosted by Cecily and MamaGeek
"Princesses wear crowns to remind them that they are smart and beautiful because some days it's easy to forget."
-Author Unknown
This little crown used to be mine. And now I have had to let go and give my sweet girlies a chance to rule our kingdom.
Wait, they were doing that before the crown. :)
Happy Friday!