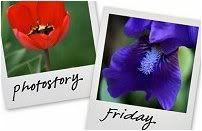 Hosted by Cecily and MamaGeek



This evening, Daddy and I took the girls to one of our favorite State Parks. My goal was to practice shooting some photographs with various props. I used one of the three props and I'll showcase them at a later date.

The best finds of the night were a beach and a barn on the side of the road. Both were great for taking some photos of my beautiful princesses. It wasn't until we were about to leave that Izabel really started participating for me.

Standing at the top of this hill, Izabel stood next to the barn and shouted.

Someone shouted back. Izabel grinned and was really surprised.

Izabel shouted a second time.

Again, someone answered.

For almost 30 minutes, Izabel played with her echo and gave me some of the happiest photos I have of her. She was so amused and giddy and was convinced that she was "playing with a girl across the field." The vibrations of her voice were actually bouncing back from another barn across the way.

Emily was very content to watch this echo game and quietly stood amazed at the game her sister was playing. Eventually she sat down to piddle in the grass and Izzy sat down next to her. I mention this only because I was more than 30 feet away shooting photos. No posing was done on our part.

I hope they continue to gravitate towards one another as they get older. Enjoy the photos!