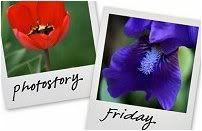 Hosted by Cecily and MamaGeek


One minute it's a beautiful piece of art...
Then it rains...
And you are left with a messed up, unrecognizable glimmer into the future.
Edited To Add:
This post really has nothing to do with Izabel painting. I was trying to be poetic about recent events this past week. It's been one of those weeks that you never think you will have to face; but we did. Just thought I better clear that up. It seems I am not very good at being poetic anymore. lol! Happy Friday!