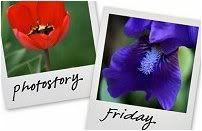 Hosted by Cecily and MamaGeek


We loved you before you were born!


Three years ago, you came in our world, and changed it forever.


You were so small and so perfect.


The awe and wonder of it all was fantastic.


You brought us laughter and tears; happiness and joy.
Our world revolved around you.


Your spirit is contagious and your smile heart warming.


Your beauty is remarkable.


You are clever and curious.
Always wanting to know who's who and what's what.


You are so talented. You love music, dancing and art.


You have the face of an angel.


You, our dearest Izabel, are the sweetest little 3 year old.
Your innocence is brilliant and you are so smart.



Looking back through your life in photos is a remarkable journey. All kinds of memories come flowing back to me. You were so small, so short and you had very little hair. And now look at you. You are tall and thin and your hair has really started to grow. I'll miss you as a little girl; as a toddler. However, I look forward to the year we have ahead of us. I can only imagine what you have in store for us.

We wish you the very best of birthdays. We love you so very much and are thankful each and every day that we were given a beautiful little girl like you.

And for the record, our world

still

revolves around you.