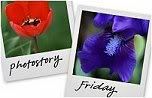 Hosted by Cecily and MamaGeek
The last few weeks have really been interesting with Emily. She's growing so much, so fast. She's learning so many new things everyday and quickly picking up on new commands.
In 16 days our little Emmy will be one. A whole year has gone by. It was a lot quicker than I remember Izzy's first year being.
We've been a little occupied around here lately so I haven't any new photos from this week. I wanted to share my favorite photo of Emily Rose the day she was born; the moment she came into this world.