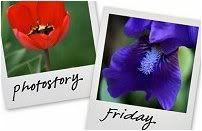 Hosted by Cecily and MamaGeek
It doesn't matter where we are, someone always stops us and tells the girls what beautiful blue eyes they have. Strangers walk up to them, peer into their eyes, make a compliment and walk off more at peace then when they arrived.
It may be the gorgeous blue tone...or it could be the innocence in our children's eyes.
They know happiness mostly; smiles, laughter, tickles and bubbles.
Can you point them to Neverland?